Digital Heat Press Machine 16 x 20 Clamshell Sublimation Transfer for T-shirt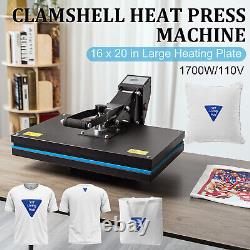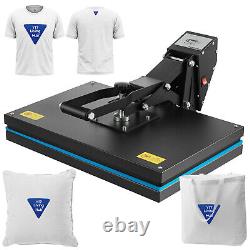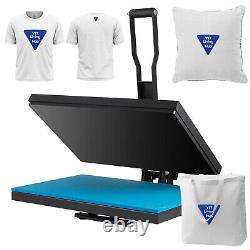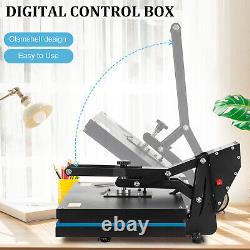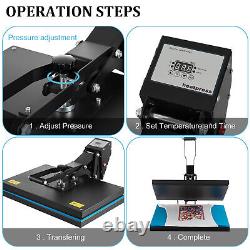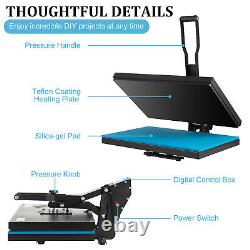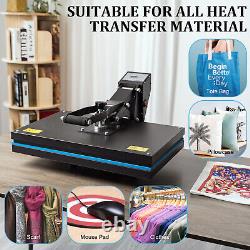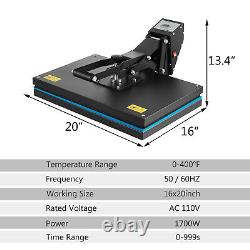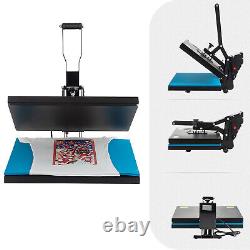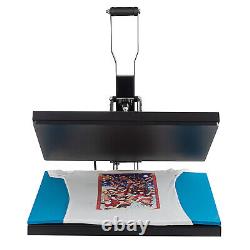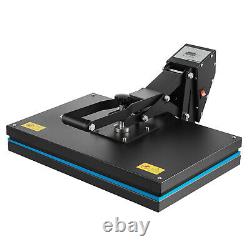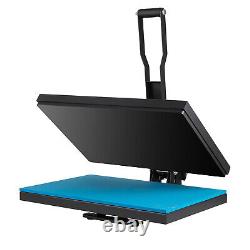 Better price, Top Quality, expert Service support. Live demo of multiple products. 16 x 20 inch Heat Press Machine. Fast Heating & One Station & Efficient Transfer. Is Industrial-quality clamshell heat press adopts the latest heating technology and two-layer insulation pads to improve the transfer performance.
The stability has also been enhanced with a high precision temperature sensor and accurate time controller, widely used for home decorations, customized gifts, and holiday celebrations. Provides a big surface to create your own custom T-shirt. Heavy duty metal construction and Teflon coated Heat Platen. Fully digital control, LCD displays show the temperature and time.
Audible Alarms for for Time. A large workspace area, 16 x 20 in, provides ample room for more basic heat pressing processes. In addition, the thickened board enhances better heat retention, ensuring a good heat consistency, by which you are assured of a nice transfer pattern. This heat-resisting sponge pad is made of composite cotton, added with flame-retardant materials. Put it under the silicone mat to achieve a better pressure balance and greater printing effect.
A high-precision temp sensor features a stronger sensitivity. Audible will automatically beep or shut off when the transfer is done, reducing the possibility of overheating. Every detail is so thoughtful, and no need to worry about injuries. This Teflon-coating heat press is capable of decreasing the possibility of scorching during the transfers.
Besides, it's easy to clean and can make printing more steady. A ground wire is also equipped for secure operation. Adjustable pressure knobs, fitted-to-palm handle, and two soft silicone & sponge heating pads provide a full range of heating effects. Multiple designs help the mats tightly wrap the materials.
Especially suitable for the transfer of flat items. This practical shirt press is versatile to transfer images on shirts, hoodies, trousers, pillows, bags, table mats, and ceramic tiles. An excellent option for DIY uses or small business purposes, realizing your inspirations in everyday life! Temperature Range : 0 - 500? Platen Size : 16 x 20 in / 40.6 x 51 cm. Package Weight : 58.3 lbs / 26.5kg. Product Size : 24.21 x 20 x 14.37 in / 61.5 x 51 x 36.5 cm. Package Size : 26.7 x 22.8 x 16.14 in / 68 x 58 x 41 cm. 16 x 20 Heat Press? The larger heating pad, 16 x 20 in / 40.6 x 51 cm, adopts silica-gel and sponge, reaching a service life of 20,000 hours. Deliver a quicker heating speed and a better transfer effect. Soft heating liner is applied for accommodating various kinds of materials. It can also reduce unpleasant smells during operation. This heat press is equipped with a precise control panel, helping you accurately regulate the temperature and time.
After finishing heating, the machine will automatically sound an alarm to remind you to take out the items. Temperature Range: 0 - 570? Time Control: 0 - 999 seconds; Power: 1700W; Voltage: 110V. Revolutionary Teflon material reduces the surface temperature to a comfortable body feeling. Hence, it's less prone to cause a scratch.
This kind of coating also lessens the risk of adhesion between clothes and platen, ensuring an excellent transfer result. You can increase or decrease the pressure by turning the full-range knob clockwise or counterclockwise in line with the thickness of materials you're transferring. Please try a few times to set the desired pressure. Outfitted non-slip rubber grip also brings you a comfortable user experience. 16" x 20" sublimation machine is helpful to make gifts for all family members or friends.
Quickly transfer colorful pictures and characters onto textiles such as cotton, cloth, HTV, ceramics, glasses, fabrics, flax, nylon, etc. All items are dispatched from our warehouse in Azusa, CA. We seeks to sell the greatest value products on the market. These items should be of an acceptable quality, fit for purpose, and matching their description. We have a highly experienced engineering and technical team who specialise in researching and developing all our products.
We benchmark our products against high standards and that's why our customers keep coming back. We never want our customers to wait for parts, we have plenty of parts available for every product. If you have a problem with the product. We will require a picture of the damaged part for verification.