8 IN 1 15X15 Heat Press Machine Digital Transfer For T-Shirt Mug Hat Plate Cap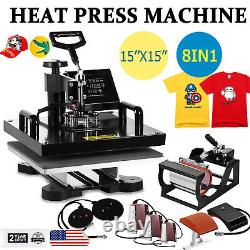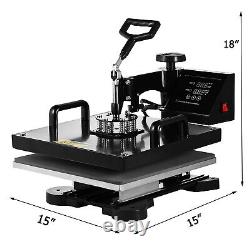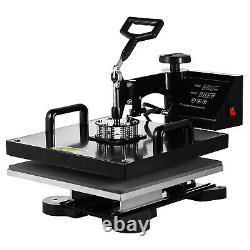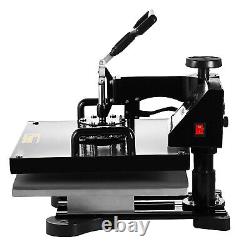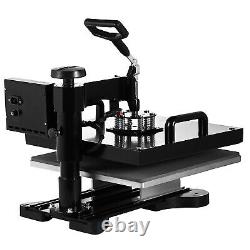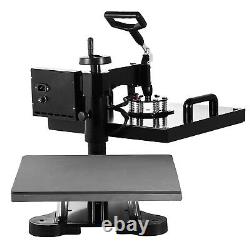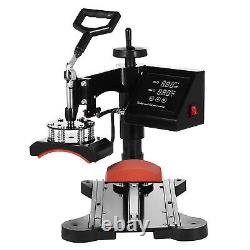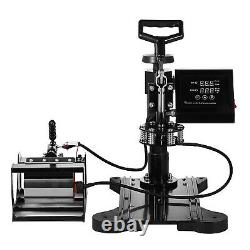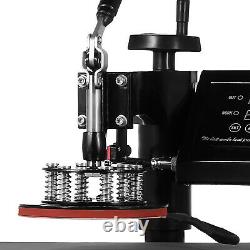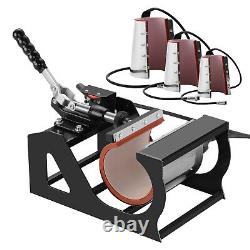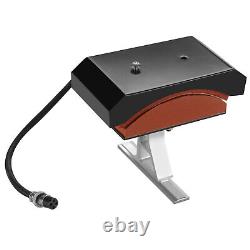 This 8 in 1 heat press machine can be used for T-shirts, caps, ceramic plates, ceramic tiles, mugs, coasters, mouse pads, jigsaw puzzles, lettering, other misc, fabrics & materials. It can transfer colorful pictures and characters of sublimating and dissolved printing ink onto ceramics, glasses and textiles such as cotton, flax, chemical fiber, nylon, etc.
This all-in-one press includes flat platen, mugs and plates. The swing-away heat press boasts all of the must-have attachments.
It has a built-in Teflon coated 15inch x 15inch (38 x 38cm) heat platen with a full range of heating coils to allow for consistency throughout its surface. The digital timer control is adjustable up to 999 seconds. The features a digital temperature gauge ranging from 0 - 250ºC (about 480ºF).
Large 15" x 15" transfer element - The 15" x 15" (38 x 38cm) heat platen provides a big surface to transfer onto flat surfaced items such as T-shirts, ceramic plates, mouse pads, jigsaw puzzles etc. Digital LED controller - Preset the desired temperature and timer. Intelligent audible alarm after the transfer done.
Full 360-degree rotation of swing-away design - Allows the heating element to be moved safely aside and reduce the chances of accidental contact. Full-range pressure-adjustment knob - This allows the pressure to be adjusted according to the thickness of the material you're transferring to. Teflon-coated platen press element - The surface is non-stick, preventing scorching of transfers, and does not require a separate silicone/teflon sheet. 2 4/5inch Long arm handle- Comfortable rubber grip for everyday use and long production runs.
Detachable lower platform - It is elevated with dual supports. Adjustable multi-spring balancer - Allows pressure to be more evenly distributed across the entire platen when it is closed. 4/5inch thick heating board - Built-in structural support to maintain flatness.
Warm up quickly and offer even heating. This heat press machine enjoys multifunctions in one machine, it can be used for transferring on t-shirt, mug, plate, cap and so on. Moreover the heating accessory can be joined. It can swing-away 180 degrees and is convenient to take off the transferred materials and can be used for transferring on certain thick materials. You can replace the heating plate easily and conveniently without using any special tools.
Press SET, the upper display will showing SP, and the lower of display will showing the temperature of last setting. Then enter into temperature setting option, press? (increase or decrease) to set the needed temperature.
After setting well, please press SET, the upper display will show SK to go on the next step for time setting. Press SET again, H1 LDE will showing ST, then enter into the time setting. (increase or decrease) to setting the needed time. (Normally the time is 180 seconds for mugs and 15-20 seconds for t shirt printing). If the controller box showing nothing when power on, there are 2 solutions. Please check the fuse wire, checking the glass wire to see if the wire damaged or fusing, if damaged, please change the wire.
Open up the back cover of controller box, and examine the electricity box, to see if some thread fall off or not, if fall off, please match it accordingly. When power on, if the controller display showing 3 lines, please take out the heating platen, and replaced it with another heating panel, or mug heater. If the display is normal, then maybe is the second situation of b, the thread wire were disconnect. If still showing 3 line, then is the first situation of a, the socket wire were fall out or break. Checking the inner wire of controller box, the white metal socket with 4 lines, please check if the thread is break or disconnect, if disconnect, please match it accordingly or replace it.
Checking the wire of heating panel, the red cycle is showing the ends of the cable, one end is 3 thread, please replace 2 thread will be okay. When power on, the controller box showing values but cannot heating up: the display showing the actual room's temperature, please takes out the plug of head machine, and replaced it with other mugs heater or plate heater. If temperature is heating up normally, then will be the next situation a, if cannot heat up, will be b situation. Checking the heating wire, the red cycle showing the ends of thread, please replace the white thread will ok. Open up the back cover, and examine the thread to see if some thread disconnected or break, if disconnected, please follow the above a, if nothing showing, please following b to maintenance.
If no break, then replace the controller box. The head controller box heating up normally, the other parts will be not heating up, please change the heating part directly.
The head machine's function is ok, but cannot count down, then please press the third button, this machine will count down. If still cannot count down, please replace the controller box. Temperature Range : 0 - 480ºF (0 - 250ºC). Timer Control : 0 - 999 Seconds. Adjustable Height : 13 1/2" To 17". Dimension : 595 x 515 x 445mm. Platen Press (Telfon-Coated) : 15" x 15" (38 x 38cm). Hat / Cap Press : 6" x 3" (Curved). Mug Press #1 : 2"-2.75" diameter (6OZ). Mug Press #2 : 3"-3.5" diameter (11OZ). Mug Press #3 : 12OZ latte mug (Cone). Mug Press #4 : 17OZ latte mug (Cone). Plate Press #1 : 5 Max Diameter. Plate Press #2 : 6 Max Diameter. 1 x Fully-Assembled Machine With Platen Press. 1 x Removable Silicone Pad And Cotton Pad. Large 15inch x 15inch (38 x 38cm) transfer element. Digital LED temperature and time controller. Full 360-degree rotation of swing-away design. Fahrenheit and celsius scale are selectable. 2 4/5 inch long arm handle, bold handle easy to hold, save effort design.
Automatic electronic timing when single table integrated, automatic alert when processes complete. Built-in fuse for safe using. Slides design make the changing of the parts easier and fast, save your time and effort. Novel, fashion, high-grade design, reasonable structure, easy operate.
Adjustable feet for unevenly floor. 2 PCS Free Teflon Sheet. Please contact our customer service team immediately if. You changed your mind and wish to request a return. Your product was damaged during transit.
Please do not return or post items before obtaining instructions from us. This also applies to orders cancelled while in transit. Please make sure that item has NO man-made sabotage.
Used items will not be accepted for return. We will require a picture of the damaged part for verification. We seeks to sell the greatest value products on the market. These items should be of an acceptable quality, fit for purpose, and matching their description. We have a highly experienced engineering and technical team who specialise in researching and developing all our products.
We benchmark our products against high standards and that's why our customers keep coming back. This item is in the category "Business & Industrial\Printing & Graphic Arts\Screen & Specialty Printing\Heat Transfer\Presses". The seller is "happy-shopping01" and is located in this country: US. This item can be shipped to United States.
Model: 8IN1 15\
Modified Item: No
Supply Type: Power Corded
Press Style: Swing-arm
Press Size: 15 x 15 in
Material: Metal
Application Type: T-shirts/Garments/Hat/Cap/Plate
Type: Heat Press Machine
Wattage: 1400W
Features: Auto-Open, Digital Display, Displays C or F, Interchangeable Platens
Power: 110V
Feature: Digital LCD timer and temperature control
Hat/Cap Press: 6\
Plate Press #1: 5\
Plate Press #2: 6\
Initial Temperature Setting Range (℃): 93-254℃
Highest Temperature Setting Range (℉): 200-450℉
Timer Control: 0 - 999 Seconds
Adjustable Height: 13 1/2\
Mug Press #1: 2\
Mug Press #2: 3\
Automation Type: Semi-Auto
Mug Press #3: 12OZ latte mug (Cone)
Mug Press #4: 17OZ latte mug (Cone)
Warranty: Lifetime
Teflon Sheet: 2PCS
T-Shirt: 1PC
Hat: 1PC
Package Size: 22\
Weight: 64lbs
Voltage: 110 V
UPC: 0841538510971
Brand: VEVOR
MPN: NOT SPECIFIED