8 in1 Heat Press 12x15 T-shirt Mug Plate Hat Transfer Sublimation Machine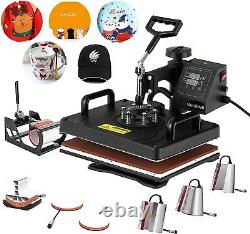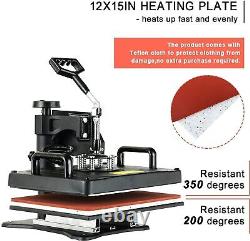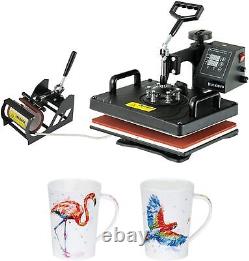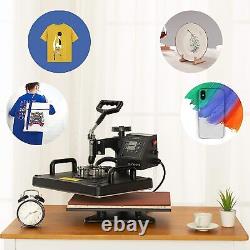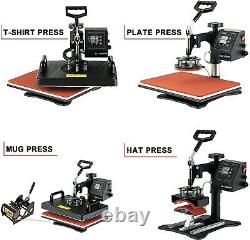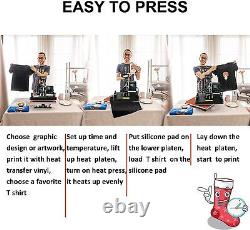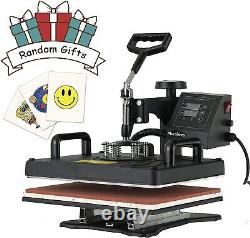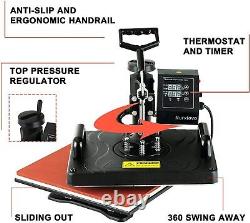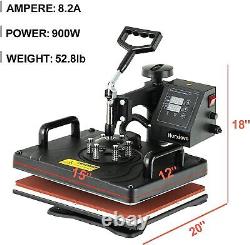 8 IN 1 HEAT PRESS- Nurxiovo UL Certified 8-in-1 combo heat press can safe and easily transfer colorful pictures and characters onto nearly any materials of your choosing that fits within one of the eight templates, such as t-shirt, baseball caps, hats, mugs, cups, plates or bags. VERSATILE HEAT PRESS MACHINE- Built with heavy duty materials, it is extremely sturdy and well made, ideal for both home and commercial applications.
Outfitted with a pressure regulator, a non-stick heat plate, 2 board handles and an ergonomic long arm, it is safe and labor saving, also a back saver. ADVANCED HEAT TRANSFER- Adopts the latest heating technology, with large 12x15 heating platen, Nurxiovo heat press heats up fast and evenly.
The thick board enhances a better heat retention, ensures heat consistency. It could greatly dissipate heat and automatically shut off when overheat.
As such, you will be sure of benefiting from high-quality transfers and safety. EASY TO USE- LCD control panel controls and shows the temperature and time precisely. Temperature Range: 33- 482 degrees F; Timer: 0 - 999 seconds, Power: 900W; Voltage: 110V; Gross Weight: 52.8 lbs; Ampere : 8.2A.
COMBO HOT PRESS MACHINE KIT-12"x 15" Heating Plate, 6"x 3" Cap/Hat Heating Element, 5" /6" Ceramic Plate Heating Element, 4.71"x7.48"(9OZ)/ 4.72"x9.05"(11OZ)/ 12OZ/ 17OZ Water Bottle, Tapered Mug/Cup, Latte Mugs Pint Glasses Heating Element. NOTE: PLEASE SWIFT TEMPERATURE SETTINGS FROM CELSIUS TO FAHRENHEIT UPON ARRIVAL, AND PRESS DOWN ARROW FOR COUNTING DOWN. 12x 15 IN Heat Press Machine 8 in 1 Combo Kit for T-Shirt/Mug/Hat/Cap/Ceramic/ Mouse pad/Bag. Nurxiovo 8 in 1 heat transfer machine boasts all of the digital features of the state-of-the-art control system. It utilizes quick change attachments for heat transferring images onto a surprisingly wide variety of materials, i.
Coated mugs, plates, tiles, mouse pads, jigsaw puzzles, T-shirts, caps, table mats, sublimation slippers, glass clocks, etc. Aterial and temperature to be printed.
The temperature of ordinary cotton cloth or cloth with low cotton content is 356? Puzzles (including paper and rubber) : 320? The temperature of silk towel, chemical fiber and polyester is 266? Cotton high temperature resistant material mouse pad temperature of 356? 30 seconds, rubber mouse pad 266?
Dark T - shirt for the Celsius temperature 320? 30 seconds, light T - shirt for the Celsius temperature 356? The temperature of ceramic tile and ceramic cup is 356-392? MULTI-FUNCTIONAL-able to apply transfers, letters, numbers and image onto HAT, T-SHIRT, PLATE, MUG.
Make your own hat, cap. Size of hat plate: 6"x 3.15"(curved). Material to be printed: cotton or fabric cloth. Heat platen is large enough to enhance small and large garments. It allows you to swing away from the top platen when opening or pull the lower platen out when complete the press.
The mall plate diameter: 5'. The large plate diameter: 6.1'. X 1 heat press board 12 x 15.
X 1 hat press pad 3.15 x 6. 8 IN 1 hot pressing machie.
Top pressure regulator : Adjust height and pressure of the heat press machine according to the thickness of the material being printed on. Intelligent timer and temperature control w/ LCD display: Temperature (33-482 Fahrenheit)and time control(0-999 Seconds). Hot stamping begins, stopwatch automatic countdown, end with alarm sound. Comfortable Handle Design : The comfortable armrest allows you to press down the heating plate more conveniently and press your own clothes quickly. Size of heat press machine. Size of Heat Press Area -15x12 IN. Size of machine: 20"L X19"W X 18H. Intelligent digital timer& temperature controls.
Temperature (33-482 degrees Fahrenheit)/(0-250 degrees Celsius). Time automatic counts down when hot transfer starts. Built in Stopwatch alarms when time's up.
Fast Heating Non-stick Heat Plate. Equipped with a full range of high quality heat coils, heats up fast and evenly, provides consistent temperature. Thickened upgraded aluminum board enhances a better heat retention. Non-Stick coated heat plate prevents scorching/burn marks.