1700W 16x24'' Clamshell Heat Press Machine Digital Sublimation Transfer T-shirt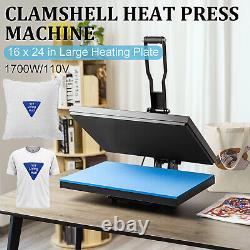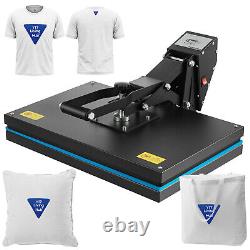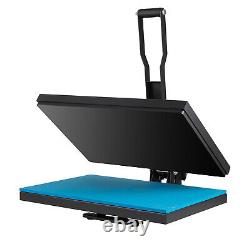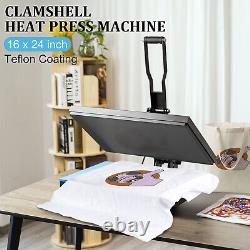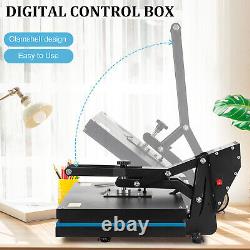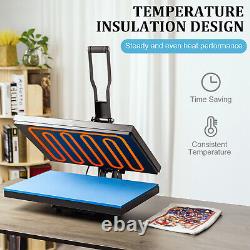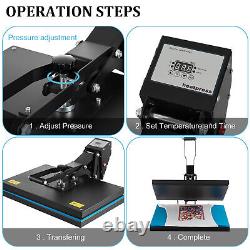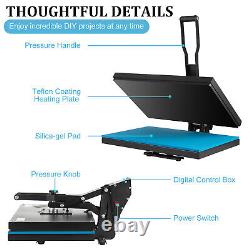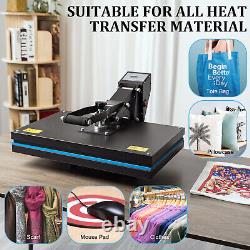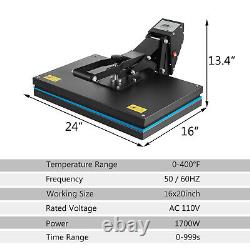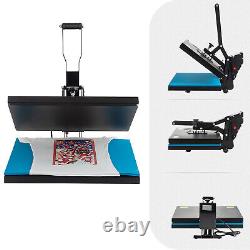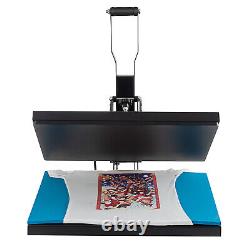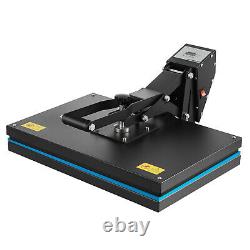 16" x 24" Heat Press Machine. Fast Heating & One Station & Efficient Transfer. Perfect DIY Enthusiasts or Small Business. This versatile clamshell heat press machine can transfer photos and text onto various materials, such as cotton, fiber, metal, ceramic, and glass.
It features a full digital temperature and time control, making it easy to monitor and adjust settings. The thick heating plate, made of aluminum with a special Teflon coating, ensures even and stable temperature. The pressure can be easily adjusted.
Overall, this machine is a perfect choice for creating custom gifts for your loved ones. Heat Press 16 inch by 24 inch heat press. Voltage: 110V (standard US and Canada). Power: 1700 watts, Heat Press Style: Clamp shell, Temperature Range: 0 500 degrees F; Time Range:0 to 999 seconds, Electronic time and heat control; precise time set up, Silicon gel base board, Pressure adjustable. Silicon pad lightly glued down not fully for purpose of replacement. Color of heat press is Black?? New Model Pull out lower platen makes loading unloading easy and less chance of getting burn. Max pull over 5.5 inch. This heat press works great in both commercial and domestic settings, and it can perform any size job with supreme durability. Color of heat press is Black. Provides a big surface to create your own custom T-shirt Heavy duty metal construction and Teflon coated Heat Platen Fully digital control, LCD displays show the temperature and time Audible Alarms for for Time, Max Temp.
Temperature Range : 0 - 486? Platen Size : 16 x 24 in / 40.6 x 61 cm. Product Weight : 61.73 lbs / 28 kg. Product Size : 24.8 x 24 x 14.37 in / 63 x 61 x 36.5 cm.
Package Weight : 68.34 lbs / 31 kg. Package Size : 27 x 27 x 17.32 in / 69 x 69 x 44 cm. 16 x 24 Heat Press: The larger heating pad, 16 x 24 in / 40.6 x 61 cm, adopts sponge, reaching a service life of 20,000 hours. Deliver a quicker heating speed and a better transfer effect.
Soft heating liner is applied for accommodating various kinds of materials. It can also reduce unpleasant smells during operation. Digital Control Board: This heat press is equipped with a precise control panel, helping you accurately regulate the temperature and time.
After finishing heating, the machine will automatically sound an alarm to remind you to take out the items. Temperature Range: 0 - 486? Time Control: 0 - 999 seconds; Power: 1700W; Voltage: 110V.
Teflon Insulation Coating: Revolutionary Teflon material reduces the surface temperature to a comfortable body feeling. Hence, it's less prone to cause a scratch.
This kind of coating also lessens the risk of adhesion between clothes and platen, ensuring an excellent transfer result. Adjustable Pressure Knob: You can increase or decrease the pressure by turning the full-range knob clockwise or counterclockwise in line with the thickness of materials you're transferring. Please try a few times to set the desired pressure. Outfitted non-slip rubber grip also brings you a comfortable user experience. Easy to Use:16" x 24" sublimation machine is helpful to make gifts for all family members or friends.
Quickly transfer colorful pictures and characters onto textiles such as cotton, cloth, HTV, ceramics, glasses, fabrics, flax, nylon, etc. Please contact our customer service team immediately if: 1. You changed your mind and wish to request a return.
Your product was damaged during transit. Please do not return or post items before obtaining instructions from us. This also applies to orders cancelled while in transit. Please make sure that item has NO man-made sabotage. Used items will not be accepted for return. We will require a picture of the damaged part for verification.