15x15 5 in 1 T-Shirt Heat Press Machine Transfer Sublimation Mug Hat Plate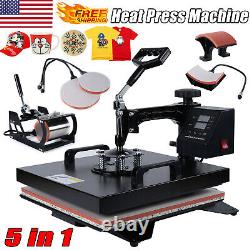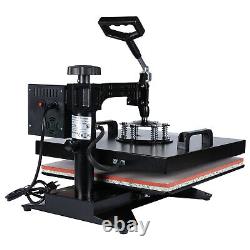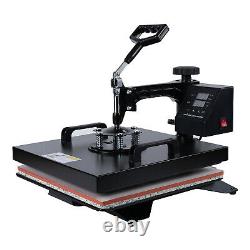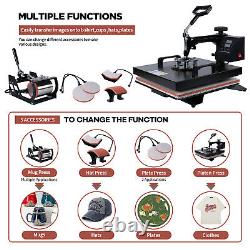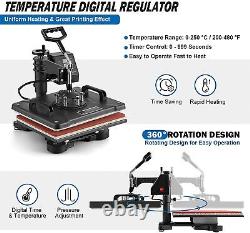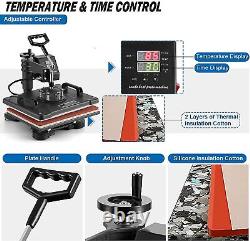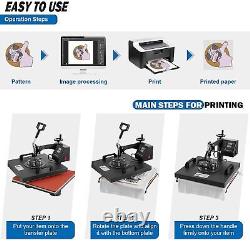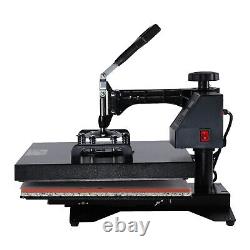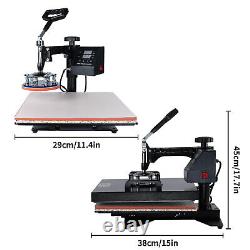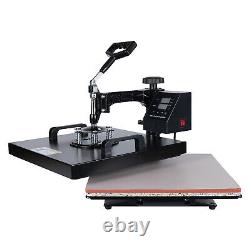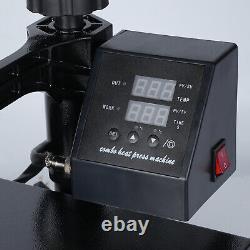 6 In 1 Heat Press Machine. This 15 x 15 heat press adopts the latest two-layer insulation technology to improve the transfer performance. With reliable motherboards & an accurate temperature control device, the stability has also been further enhanced. All the accessories will be provided to bring you the beautiful graphics on T-shirts, hats, plates, cups, etc. Note: The appearance of the heat press has been updated.
The controller has a marvelous and gorgeous appearance, featuring the digital display and button. You only need to press one time to realize a simple & quick operation. The well-upgraded handle made of rubber is more effort-saving and smooth under the same pressure, making it more comfortable to hold. With a swing-away and guide rail design, this heat press machine provides a full range pressure directly as well as evenly. A portable handle can facilitate the movement.
The flexible button is easy for adjusting the height. Based on the solid base, the heat press requires stable support to maintain smooth running. Come with 2 layers of thermal insulation cotton, a 4-mm aluminum silicate paper insulation, and a 10-mm thick thermostable sponge to improve the transfer effect.
The complete kit that includes all the necessary accessories you need helps you easily apply transfers, letters, numbers & images onto T-shirts, caps, ceramic plates, mugs, etc. Timer Control: 0 - 999 Seconds. Gross Weight: 57 lbs (25.8 kg). Platen Press (Telfon-coated): 15" x 15" (38 x 38 cm). Hat/Cap Press: 6" x 3" (15 x 7.6 cm) (Curved). Mug Press#1: 3"-3.5" (7.6 x 8.9 cm) Diameter (11 OZ). Mug Press #2: 10 OZ latte mug (Cone). Plate Press #1: 5 (12.7 cm) Max Diameter. Plate Press #2: 6 (15.2 cm) Max Diameter. X 38.5 x 38 cm/15.15 x 15.15 x 14.96 inch. X 45 x 58 cm/18.7 x 17.72 x 22.83 inch. Material: frame steel, heating components cast aluminum. Can print hot products: clothes, hats, with heat transfer coating cups, with heat transfer coating plate. Thickened aluminum plate, heat is even with no dead ends, corrosion-resistant. Intelligent touch, a light touch on the temperature regulation and control, simple operation, convenient temperature control.
Spring pressure plate, thick, practical and convenient, good shape. Pressure lever, the material is more rigorous, more energy-saving. Can print and iron clothes, hats, cups with heat transfer coating, plates with heat transfer coating. Baking cap up and down assembly 1.