15x15 5 IN 1 Combo T-Shirt Heat Press Transfer Machine Sublimation Swing Away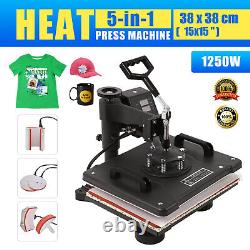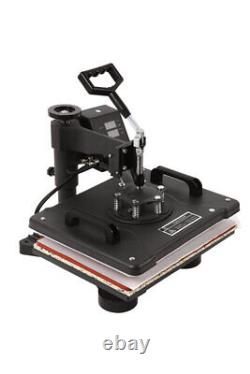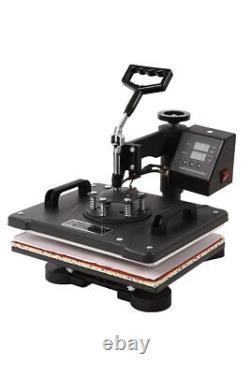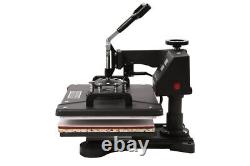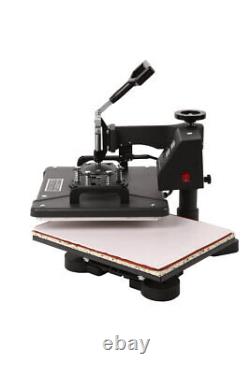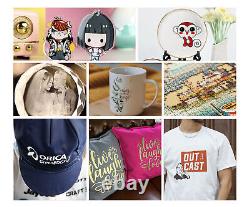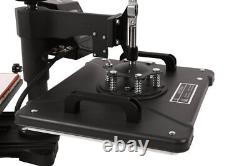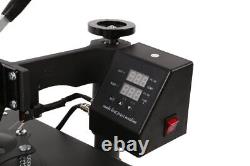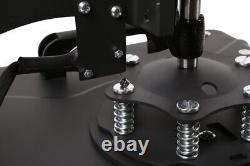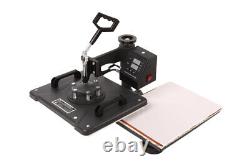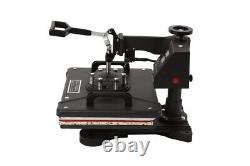 GERMANY Business ALL ITEMS IN STOCK IN GERMANY. GERMANY STANDARD PRODUCTS QUALITY GUARANTEED. 15"x15" 5 IN 1 Combo T-Shirt Heat Press Transfer Machine Sublimation Swing Away. Item was as described and arrived quickly.
This 5 in 1 heat press machine can be used for T-shirt, hat, ceramic plate, ceramic tile, mug, coaster, mouse pad, puzzle, lettering, etc. It can transfer colorful images and characters of sublimating and dissolved ink onto ceramics, glasses and textiles such as cotton, flax, chemical fiber, nylon, etc.
This all-in-one printing machine includes flat printing plates, cups and plates. The transfer press, which can be swiveled away, has all the indispensable attachments. It has a built-in Teflon-coated heating plate (38 x 38 cm) with a full range of heating coils to ensure consistency across the surface. The digital timer control is adjustable up to 999 seconds. The has a digital temperature display from 0 - 250 °C approx.
Large 15" x 15" Transfer Element - The 15" x 15" (38x38cm) heating plate provides a large surface area for transferring onto flat items such as t-shirts, ceramic plates, mouse pads, jigsaw puzzles, etc. Digital LED Controller - Set the desired temperature and timer. Intelligent acoustic alarm after successful transmission. Full 360 Degree Rotation of Swing-Away Design - Allows heating element to be safely moved sideways, reducing the chance of accidental contact. Full Range Pressure Adjustment Knob - This allows the pressure to be adjusted to suit the thickness of the material being transferred.
Teflon Coated Build Plate Element - The surface is non-stick coated, preventing scorching of transfer papers and requiring no separate silicone/Teflon sheet. 24/5 Long Arm Grip - Comfortable rubber grip for everyday use and long production runs. Removable lower platform - It is raised with two supports. Adjustable Multi-Spring Balance - Allows for more even pressure distribution across the entire plate when closed. 4/5 Thick Heating Plate - Built in structural support to maintain flatness. Heat up quickly and provide even heating. Upgraded Aluminum Alloy Bracket - Removed bracket for using the cup elements.
Compact size and light weight compared to standard cup racks. Fahrenheit and Celsius scale are selectable Adjustable multi-spring balancer Allows for a more consistent Pressure distribution across the entire panel when closed 4/5 thick heating plate Built in structural support for maintaining flatness Warm up quickly Provides even heating Complement:After receiving the product, you just need to assemble the product.
Temperature range: 0 - 250°C (32 - 482°F) 5. Timer (adjustable): 0 - 999 seconds 6. Temperature rise time: 5 minutes 7. Diameter (Ø12.5 cm) 1 x plate press : 6 max.
1 X Heat Printing Machine 2. 1 X Hat Press 3. 1 X mug presses 4.
2 X plate presses 5. 1 X Detachable Silicone Pad and Cotton Pad 6. 1 X Instruction Manual 7. T-shirts, mugs and hats are NOT included. If you have a problem with the product. We will require a picture of the damaged part for verification. Ranty does not cover accidents, develop a fault due to misuse or improper installation.
We offer detailed product descriptions and images to give you a real advantage in finding the products you're looking for.