12x15 Digital Heat Press Machine 8 in 1 Sublimation for T shirt Mug Hat 110V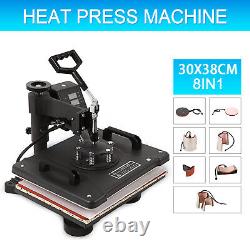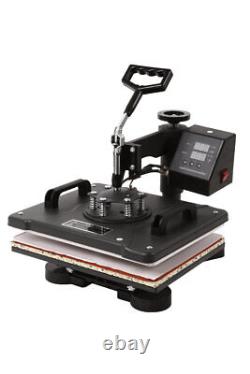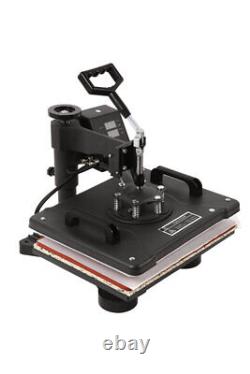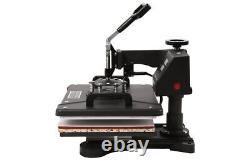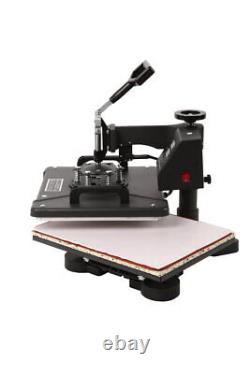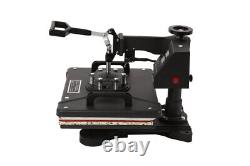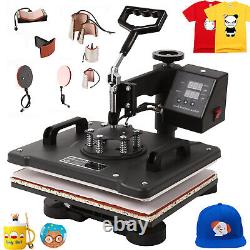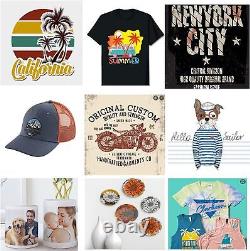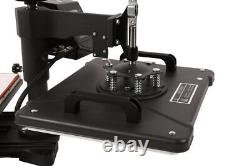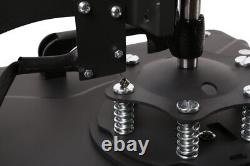 12"x15" Digital Heat Press Machine 8 in 1 Sublimation for T shirt Mug Hat 110V. This 8 in 1 heat press machine can be used for T-shirts, caps, ceramic plates, ceramic tiles, mugs, coasters, mouse pads, jigsaw puzzles, lettering, other misc.
It can transfer colorful pictures and characters of sublimating and dissolved printing ink onto ceramics, glasses and textiles such as cotton, fl. Ax, chemical fiber, nylon, etc. This all-in-one press includes flat platen, mugs and plates. The swing-away heat press boasts all of the must-have attach.
It has a built-in Teflon coated 12" x 15" (38X30cm) he. At platen with a full range of heating coils to allow for consistency throughout its surface. The digital timer control is adjustable up to 999 seconds. The features a digital temperature gauge ranging from 0 - 250ºC (about 430ºF). Large 12" x 15" transfer element - The 12" x 15" (38X30cm) heat platen provides a big surface to transfer onto flat surfaced items such as T-shirts, ceramic plates, mouse pads, jigsaw puzzles etc.
D controller - Preset the desired temperature and timer. Intelligent audible alarm after the transfer done. Full 360-degree rotation of swing-away design - Allows the heating element to be moved safely aside and reduce the chances of accidental contact. Full-range pressure-adjustment knob - This allows the pressure to be adjusted according to the thickness of the material you are transferring to. Teflon-coated platen press element - The surface is non-stick, preventing scorching of transfers, and does not require a separate silicone/teflon sheet.
2 4/5 Long arm handle - Comfortable rubber grip for everyday use and long production runs. Detachable lower platform - It is elevated with dual supports. Adjustable multi-spring balancer - Allows pressure to be more evenly distributed across the entire platen when it is closed.
4/5 thick heating board - Built-in structural support to maintain flatness. Warm up quickly and offer even heating. Upgraded aluminium alloy cradle - Detached cradle for use of the mug elements.
Compact size and lightweight, as compared to standard mug cradles. This heat press machine enjoys multifunctions in one machine, it can be used for transferring on t-shirt, mug, plate, cap and so on. Moreover the heating accessory can be joined. It can swing-away 180 degrees and is convenient to take off the transferred materials and can be used for transferring on certain thick materials. You can replace the heating plate easily and conveniently without using any special tools.
Fahrenheit and Celsius scales are selectable. Allows for more even pressure distribution across the entire plate when closed. Built-in structural support to maintain flatness.
Temperature range: 0 - 250 °C (32 - 482 °F). Time control (adjustable): 0 - 999 seconds. Temperature rise time: 5 minutes. 12" x 15" (30 x 38 cm).
5.5 "x 3" (14 x 8 cm). 12 23.5 cm (11oz). 1 X heat printing machine. T-shirts, cups and hats are NOT included.
Complement : After you receive the product, you just need to assemble the product. After you have ordered, you must pa.