11 in 1 Combo Heat Press 15x12 Sublimation Machine T-Shirt Mug Hat Plate Pen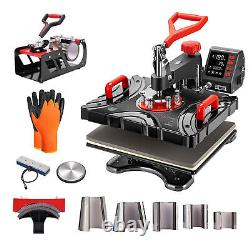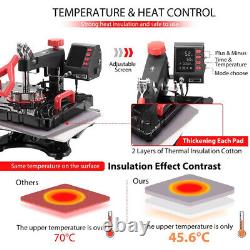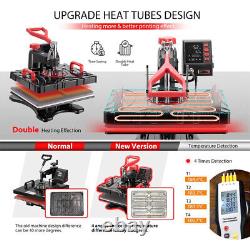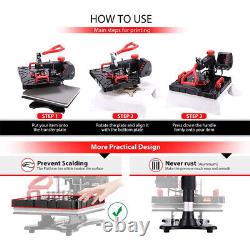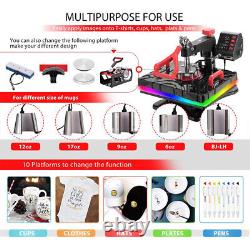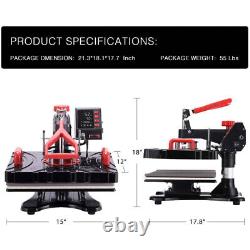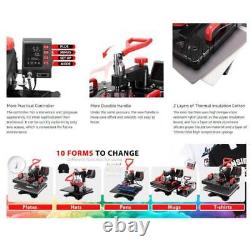 11 in 1 Combo Multifunctional Swing Away Clamshell Printing Sublimation Heat Press Transfer Machine for T-Shirt Hat Cap Mug Plat. With a swing-away and guide rail design, this heat press machine provides a full range press directly and evenly, which guarantees the quality of finished transfers; The design of the pull handle on top is non-slip and simple to operate during printing; The strong base makes it more stable when using. Designed with a large LCD screen display and silicone buttons, which are more accurate and easy to operate with counting function; It can display in both Celsius and Fahrenheit and the alarm will sound when time has completed; When the countdown ends, the light of the screen will be faded if you do not operate the machine within 30 minutes; 3 modes are free to switch and can quickly make different products; Only need press one time, easy for you to get started. The double heating tubes design can heat a larger area and make the transfer effect better, as the temperature difference is only about 5 °C from the central and the edge; Unlike other designs whose difference can be more than 10 °C. When the working temperature reaches 200 °C, the surface temperature of the machine is only about 50-70 °C, ensuring your safe use; Unlike other products' surface temperatures, which is 70-100 °C and may burn your hands; When the temperature is too high or the voltage is unstable, the small black button on the side of the control box would pop up to protect your safe. The complete kit helps you easily apply transfers, letters, numbers and images onto T-shirts, caps, ceramic plates, ceramic tiles, mugs, coasters, mouse pads, jigsaw puzzles, letterings, and other misc. Fabrics; Different sizes of mug presses in the package could meet different transfer demands for you; Comes with a pair of industrial gloves, which are convenient to take the printing material. The digital controller has a marvelous and gorgeous appearance, being more sophisticated than the traditional one.
It can be quickly replaced by only two screws, which is more convenient for future maintenance. Under the same pressure, the new pull handle is smoother and can save more effort, while not easy to break.
The pressure bar is made of stainless steel to ensure reliability and durability. 2 Layers of Thermal Insulation Cotton. The new machine uses high-temperature resistant nylon plastic as the upper insulation board and has a layer of 4mm aluminum silicate paper insulation material and a layer of 10mm thick high-temperature sponge.
11oz Mug Heating Press x 1. 9oz Mug Heating Press x 1. Power Cord: 3.3 ft. 6oz Mug Heating Press x 1. Size of Heating Plate: 15" x 12" (Swing-away Design).
8 Inch Plate Heating Pad x 1. Heat Press Machine x 1.
10 Inch Plate Heating Pad x 1. Cap Heating Press x 1.
Lengthened Bottle Heating Pad x 1. 12oz Mug Conic Heating Press x 1. 12-in-1 Pen Heating Press x 1.
17oz Mug Heating Press x 1. Digital LCD Timer & Multiple Spring Balance & Ergonomic Handle & Safety Use. Let this heat press machine help you print your attractive designs on assorted surfaces. This machine is made up of powerful steel frames with industrial strength and durability.
It is quite versatile and easy to use as its 15 x 12 inches large working area is enough to hold most items you want to print on them. It has a neat 360-degree rotation function, as well. With this, the machine can provide a more even heating. The heating temperature can be set from 140-392?
/ 40-200 °C while the time can range from 1-999s. Equipped with 15 x 12 inches large heating plate, providing more choices of printing types for you, from small gifts to commodities.
A flat plate that transfers heat evenly on surfaces of various materials, and the adjustable pressure presents flat stamping and ideal quality as you wish. The 2 plastic-made handles feature great heat insulation to prevent scalding by allowing you to add pressure at your convenience. The hexagonal design in the middle of the heating platen is detachable and easy for you to clean. Suitable for flat items like T-shirts, clothing, bags, mouse pads, puzzles, tiles and plates, as well as curved items such as cups and hats.